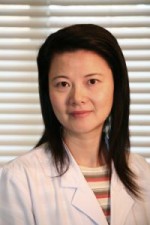 Dr. Wu's Acupuncture & Chinese Medicine Clinic is conveniently located in Scenic Acres Medical Centre in NW Calgary, just a few minutes from Crowfoot Centre.
As a Registered Acupuncturist in Alberta, I am committed to the wellbeing of my patients by providing gentle, safe and effective acupuncture treatments. One of the goals of my website is to provide you with high quality of information about acupuncture and Chinese Medicine. I invite you to explore the site and to educate yourself about your medical condition.
If you're recovering from or struggling with a health problem – there is only one reason. Your body's natural self-healing mechanisms haven't yet done their job. Sometimes just a little help is needed.
Most people seek out Acupuncture and Chinese herbal medicine after being disappointed with the results of medications and other treatments. Even the strongest modern drugs usually can only mask symptoms, not cause healing. True healing is only possible when your body heals itself.
That's what makes Acupuncture and Chinese herbs so powerful. They work by assisting your body's self-healing mechanisms and correcting biochemical imbalances.
As an acupuncturist, I've been privileged to see many, many cases of healing, even after nothing else worked. Please review the conditions treated page to see if acupuncture and Chinese medicine may be appropriate for you. If you're interested in discussing whether your specific condition is likely to respond to treatment, I invite you to contact me to arrange a free 15 minute consultation. Or simply book an appointment.
I look forward to meeting you and to helping you on your way to a healthier, more comfortable lifestyle. I will accommodate your needs and provide a positive and satisfying experience to assist you in living well.
Dr. Linda Wu
Reg. Acupuncturist, M.D. (China) Phone: (403) 681-6988
Dr. Wu's Acupuncture & Chinese Medicine Clinic
Scenic Acres Medical Centre
8555 Scurfield Drive N.W. Calgary
Proudly Serving Calgary NW and Cochrane Area
Acupuncture
Chinese Herbs