Dr. Linda Wu is a Registered Acupuncturist.  She is a member of College and Association of Acupuncturists of Alberta (CAAA).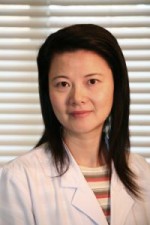 Dr. Wu was born and raised in China, in a traditional Chinese family that encouraged scholastic values.  As a young girl, she witnessed the difference her father made in the lives of young people by being a high school teacher for many years.  This inspired her to become a doctor. so that she, too, could make a difference in people's lives.
After graduating from Zunyi Medical college in 1992, Dr. Wu practised medicine at the affiliated hospital of Guiyang Medical College, in the Health Center For Women And Children.
Dr. Wu finds great satisfaction in helping her patients restore their health through natural healing, and through guiding them to live a whole, vibrant and healthy life by making changes in lifestyle and diet, and through mind/body rejuvenation.
Dr. Wu's strong background in Western medicine, her extensive clinical training and practice, has allowed her to develop expertise in acute/chronic pain management, emotional disorders and women's health.  She is committed to the wellbeing of her patients by providing gentle, safe and effective acupuncture treatments.  Thanks to her unique background in Western medicine, the exclusive use of disposable needles, and her strict safety guidelines, your safety is totally ensured.
At Dr. Wu's acupuncture clinic, patients are treated with respect and understanding.  Her patients are so satisfied with the results of their treatments, and with her gentle approach and professional skills, that they tell their friends and families.  Most of Dr. Wu's patients come to her through word-of-mouth and doctor's referrals.
Dr. Wu is devoted to her family, and she enjoys cooking Chinese food for them.  Her personal interests include reading and gardening.